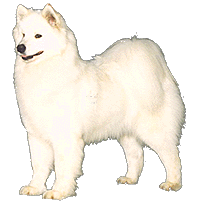 Samoyed Breeders Showcase
Accepting "pre-approved" business card advertisements
for reputable Samoyed breeders at this time; see details below!

Select which region you would like to view!
NORTHEAST - SOUTHWEST - MIDWEST - SOUTHEAST - NORTHWEST - CANADA

PRICING FOR ADVERTISERS:
Business card advertisement is $20 per year for "pre-approved" Samoyed Breeders. This includes the ability to list more than two litters in a fiscal year! See page 15 in your SCA "At Your Service 2010" for your region. You can email a scanned .jpg of your business card or send your business card to me. Please contact via email (below), for arrangements.
Pre-designed, scanned (ready to insert) large banner advertisement is $20 per year.
Custom business card design with photo; additional $25, one-time fee.
For more information, email Tina at tina@myteesamoyeds.com