Samoyed Rescue Alliance Whether you already own a Samoyed, are interested in adopting one, or just want to learn more about this wonderful breed, visit the Samoyed Rescue Alliance web site for a valuable resource.

Samoyed Rescue Homepage
A list of Samoyeds desperately needing homes! Be sure to check out the NEW! Online Samoyed Rescue Newsletter

North Texas Samoyed Rescue The ultimate goal of the North Texas Samoyed Rescue is to see Samoyeds placed in loving, forever homes where both the dog and its adoptive family can live "happily ever after." They are a dedicated group of individuals who love animals in general and the Samoyed breed in particular; a nonprofit organization based in the Dallas/Ft. Worth area for rescuing purebred Samoyeds. See their web site to see dogs available for adoption, procedures and favorite links. Contact information: ntsfrescue@aol.com

Northwest Samoyed Rescue
Northwest Samoyed Rescue is a union of Samoyed Rescue of Oregon and Samoyed Club of Washington State Rescue. NWSR has the support of the local Samoyed breed clubs in the northwest. Our directors are members of the Samoyed Club of Washington State, the Willamette Valley Samoyed Fanciers and the Samoyed Club of America. The mission of Northwest Samoyed Rescue is to rescue unwanted Samoyed dogs and place them in homes where they are wanted and loved. If you have a question about rescue, or are looking for a dog, go to the web site or email to rescue@nwsams.com.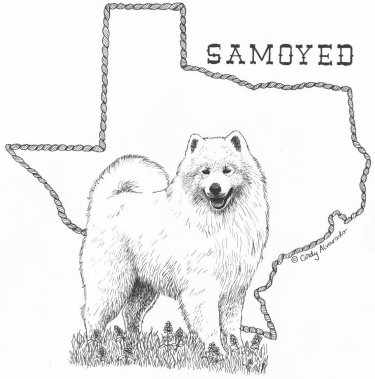 Samoyed Club of Austin, Inc.
If you are interested in adopting a rescue Samoyed, go to www.scaustin.org/rescue.html to see the Samoyed Club of Austin, Inc. Rescue Page. For more information, contact scaustin@hotmail.com The main home page for the Samoyed Club of Austin, Inc. is: www.scaustin.org. The rescue currently has several Samoyeds up for adoption!

The National Samoyed Rescue is a group of dedicated volunteers across the country helping Samoyeds in need. Most often this help is in the form of rehoming dogs who come from shelters or owners who can no longer keep them. It also includes helping owners work through problems so they can keep their Samoyeds along with helping to return dogs to the breeders who bred the dogs and are willing to take them back. Phone: 1-888-NSR-SAM3 (888-677-7263) or email info@samoyedrescue.org. "Helping Samoyeds One Smile at a Time!"
Michigan Samoyed Rescue - For adult and rescue Samoyeds needing homes, contact:
Rich Kimmerling at rich@michigansamoyedrescue.org or phone (810)736-4898. You can visit the website at: http://www.michigansamoyedrescue.org/
Buckeye Samoyed Rescue of Ohio is a non-profit 501C3 organization dedicated for the assistance of unwanted, abandoned or owner surrender Samoyeds. We may at any time have adult Samoyeds available for adoption and on occasion we may have a puppy or puppies. All available rescues have been examined by a licensed veterinarian, are current on vaccinations and have been spayed or neutered. Please contact us if you are interested in adopting a rescue or providing foster care for a rescue. Phone: (440) 567-8933 Visit the web site: http://www.buckeyesamoyedrescue.org/ or email: rescue@buckeyesamoyedrescue.org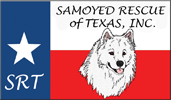 Samoyed Rescue of Texas, Inc. is a 501(c)(3) non-Profit Organization and non-profit charity. All members are unpaid volunteer's. We rescue Samoyed's, and strong Samoyed mixes. We will assist in the rescue of other Northern Breeds as time & resources allow. Our primary coverage area is Texas, Oklahoma, & Louisiana. We are funded primarily from grants, donations, & fundraisers. Our primary mission is the rescue of Samoyeds in need. New rescues from shelters are boarded while receiving all medical care needed; this is to help protect our adopters, fosters, & volunteers pets from diseases & illnesses that dogs may have been exposed to in the shelters. All dogs are spayed/neutered, micro chipped, groomed, behavior tested, and socialized before being available for adoption. All shelter dogs are evaluated by experienced personnel prior to taking into rescue, with few exceptions. No Samoyed will be approved for a home without an on-site Home Visit being completed, personal & Veterinarian references confirmed. Email address: samrestx@yahoo.com Web site: http://www.samoyedtexas.org/ Facebook page: www.facebook.com/SamoyedRescueofTexas